"I know of no safe depository of the ultimate powers of the society, but the people themselves: and if we think them not enlightened enough to exercise their control with a wholesome discretion, the remedy is, not to take it from them , but to inform their discretion by education. This is the true corrective of abuses of constitutional power."

Thomas Jefferson to William C. Jarvis, September 28, 1820
Dear Parents, Grandparents, Educators, Legislators, Pastors – Friends all,
The Foundation of any society is the family and the natural instinct of parents is to nurture and protect their offspring.
On November 2nd Virginians proved to America's voters that we do not need to put up with ideologues, elitists, politicians, and political parties whose ideas, policies and social engineering programs ignore, and even thwart, the values and will of the majority of the American people.
Exit polls of 3,899 Virginia voters demonstrated this fact:
Glenn Youngkin, a Republican businessman who had only a 2% name recognition at the beginning of his campaign for Governor of Virginia, defeated a well-known Clinton friend, former Governor, and Democrat candidate who was the odds on favorite to win.
How is that possible in today's big money, dog-eat-dog political campaigns?
Both moderate and liberal Democrats, as well as a majority of Independents and Republicans in Virginia, were unwilling to accept what has become clear to the voting public across the nation:
Americans in each Party, including Independents, are not enamored with Joe Biden's inflation-producing decisions, ham-handed foreign and domestic policies, bloated socialist spending plans, and unconstitutional mandates that unnecessarily jeopardize the livelihoods of millions.

Neither were they in agreement with the Democrat candidate for governor regarding parents' rights to be involved in their children's education.

Parents around the state, no matter what their affiliation, rallied to oppose this fundamental right through the election process. Added to the Biden Administration's numerous faux paus, citizens said 'enough'.

Youngkin ran a positive campaign while his opponent ran a typical negative campaign reiterating liberal union and progressive platitudes.

Both Voter Registration and Turnout, because of Biden's and McAuliffe's policies and falsehoods, was the highest in the state's gubernatorial election history since 1997.

Voter Registration and Turnout was at an all time high. 3.3 million Virginians voted compared to 2.6 million in 2017 and 2.3 million in 2013.

27% of the Total Votes cast were cast by White Evangelical/Born Again voters. Youngkin received 89% of that Vote.

Youngkin received 37% of the "all other" Votes, (73%).

Of the 52% who answered the question of how much "say" parents should have in what their child's school teaches, Youngkin garnered 77% of that vote.
It is undisputed by those in the Media, and elected officials across the country, that engaged and active parents who are concerned about what their children are being taught, were the driving force that led to a greater Turnout and Victory for Virginia's parents…but most of all… a great Victory for their children.
In the 2022 Mid Term Elections, America's parents, must become the driving force in America to put an end to this Administration and the abuses of the woke Education Departments in Washington D.C., every state capitol, and every compromised school board in the nation. This is the real solution to building back our nation better than it is today.
Jefferson was right . . .
There is "no safe depository of the ultimate powers of the society, but the people themselves: and if we think them not enlightened enough to exercise their control with a wholesome discretion, the remedy is, not to take it from them, but to inform their discretion by education. This is the true corrective of abuses of constitutional power."
"Resistance to tyranny becomes the Christian and social duty of each individual…
Continue steadfast and, with a proper sense of your dependence on God,
nobly defend those rights which heaven gave, and no man ought to take from us."

John Hancock
"For God has not given us a spirit of fear, but of power, and love and a sound mind"
II Timothy 1:7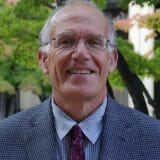 Victor Davis Hanson
American Commentator, Classicist
Senior Fellow, The Hoover Institute
VP Harris Admits Election Fraud Occurred
Big Name Dems Sound Alarm About Voting Machines
The Debate About Dominion Voting Machines
Defrauding The American Voters
"You are the light of the world. A city that is set on an hill cannot be hid.
Neither do men light a candle and put it under a bushel, but on a candlestick; and it giveth light unto all that are in the house; Let your light so shine before men that they may see your good works, and glorify your Father which is in heaven.

Matthew 5:14-16 KJV
Subscribe To Our Commentaries