"For I am persuaded, that neither death, nor life, nor angels, nor principalities, nor powers, nor things present, nor things to come, nor height, nor depth, nor any other creature, shall be able to separate us from the love of God, which is in Christ Jesus our LORD."

Romans 8:37-39
The Apostle Paul's letter to the Christians in Rome
Having been a "Watchman on the wall" since the early 1980's I have witnessed the rise and growing predominance


in civil government, public education, and the media, of what Supreme Court Justice Potter Stewart identified as the religion of Secular Humanism.
Birthed in the bowels of Satan's jealousy and hatred of the power and sovereignty of the eternal God of Abraham, Isaac and Jacob, this idolatrous religion has been embraced by America's elites in the twin towers of money and power, consuming everything in its path, particularly in the halls of civil government, education, corporate America, and the media.
Appealing to the base desires of fallen human nature, it has seduced successive generations of Americans by it's promises – reminiscent of the temptations of Christ in the wilderness – but this time, appealing successfully to the corrupt nature of fallen men (Cf. Matthew 4:1-10).
From it's diabolic origin in the black heart of the most hate filled and deceptive power in the universe, and cloaked in the deception of Eve in the Garden to be "like God," all knowing and "wise" (Genesis 3:1-6), godless secularism empowered by it's most influential advocates for decades, has unleashed every manifestation of evil that we see in contemporary America, from licentiousness and lawlessness, to violence and murder. It's top down tentacles of political control have been so pervasive that voters chose a President who promised to address the folly and is being viciously opposed in every effort to do so.
It's unmitigated deception has produced a trail of broken people, families, hopes, dreams, institutions, and now… a nation on the brink of moral and political collapse by the hand of foolish, arrogant, prideful, and fallen men and women who – like their master – want adulation, power, and control. In their pursuit of money and power they have unwittingly produced the desired havoc and chaos of their 'master', the Prince of the power of the air (Ephesians 2:2).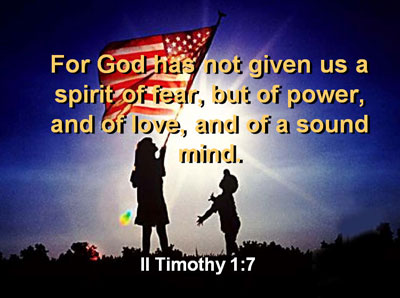 We should all be dismayed… but not paralyzed by the fear their acts have provoked. Instead, we who know the 'Rock of ages' – Who indwells all who believe in Him from the heart – should be determined to "stand" and "withstand" the assault of a deceptive and dangerous, but defeated foe.
"Finally, my brethren, be strong in the LORD, and in the power of his might. Put on the whole armor of God, that ye may be able to stand against the wiles of the devil. For we wrestle not against flesh and blood, but against principalities, against powers, against the rulers of the darkness of this world, against spiritual wickedness in high places. Wherefore, take unto you the whole armor of God, that ye may be able to withstand in the evil day, and having done all, to stand."

Ephesians 6:10-13

"For the weapons of our warfare are not carnal but mighty through God to the pulling down of strongholds, casting down arguments and every high thing that exalts itself against the knowledge of God."

II Corinthians 10:4-5
That God will not be mocked, nor shall the gates of hell prevail against the 'Church' (the ekklesia: the worldwide public assemblage of born again believers in Jesus Christ).
As believers in the one true God pray, put away their fear of man, and CALL our brethren to Stand, speak up, and mobilize our voices to support strong Christian world view candidates for local, state, and federal office in 2020, Oregon, and America can begin the restoration of citizen-led-government "Under God", in Whom we say we Trust.
"Fear thou not, for I am with thee; be not dismayed; for I am thy God: I will strengthen thee; yea, I will help thee; yea, I will uphold thee with the right hand of my righteousness."

Isaiah 41:10



The Disaster That Is American Christianity
The Truth About Education In America
The Looming Catastrophe
When A Nation Rejects God
Pray for our nation's leaders and for the Body of Christ to restore their voice in the war against freedom in America.
Help us continue to CALL the Body of Christ to their citizenship duty to VOTE
Restore America is a 501(c)(3) non-profit Christian ministry supported solely by the contributions of our readers and a small number of churches. Donations are tax deductible for federal income tax purposes and can be made online, or by mail.
If you prefer, you can mail your contribution to
Restore America
P.O. Box 2225
Lake Oswego, Oregon 97035
Subscribe To Our Commentaries