Becoming Our Own gods

"If you believe in God, but you don't believe in any divinely revealed text, how do you know what your God wants of you? How do you know what God wants of humanity? Of course, you or your society can make up laws and values, including some good ones The Torah would approve of. But if God told us nothing, we would become our own gods when it comes to determining moral values."
Dennis Prager, leading Jewish scholar and radio broadcaster
One of the the great problems in America – if not the greatest problem – is that we have sold our souls to the false gods of secular humanism, gods of our own choosing, like the golden calf at the foot of Mt. Sinai; which, if not destroyed would have led to certain destruction for Israel.
The debacle of unbelief and rejection of eternal truth in matters of marriage, family, morality, and ethics – through public policy – is upon us at the hands of both uninformed voters, judges, and our elected leaders.
Rejecting the laws of God in public policy removes the protective hand of God built into those laws.
As confidence in our elected officials and government institutions deteriorates, so does our confidence that our votes can change anything when candidates with the most money 'buy' elections through wall to wall political ads and voter ignorance.
Oregonians who are registered to vote will start receiving their ballots on Friday, April 27th.
Unless a far greater number of Biblically informed Evangelical and Born Again Christians than voted in 2014, read, study, pray, and make good use of the voter guides provided by the State and Oregon Family Council – and turn in their ballots – Oregon will continue to be plagued by elected officials who reject the moral and ethical laws of our Creator.
God has told us everything we need to know through "the divinely revealed text" of Scripture, from Genesis to Revelation, including the war that wages in heaven and on earth between God and Satan, for the souls of men. We can know what God wants of us, that His will be done "on earth as it is in heaven."
To that end, elect Godly men who know the truth and how to serve Him in elective office.
Our Goal? 472,000 Evangelical and Born Again Christians VOTING for good and Godly candidates for the Oregon House, Senate, and Governor.
___________________________
Overcoming The Secularization Of Oregon
Where Are Oregon's Christians?
Oregon Christians – Be Believing!
___________________________
The decision for who becomes the next Governor of Oregon and represents us in both houses of the legislature, is critical for all Oregonians.

The 2018 Operation Oregon Campaign
LORD God of heaven and earth, remind us that "we wrestle not against flesh and blood, but against principalities; against powers, against the rulers of the darkness of this world, against spiritual wickedness in high places" as we take on the whole armour that You have given us. Enliven our faith that we would be your voice in and to the government in which Your Name should once again be exalted. In the Name above all names, Amen.
"Our cause is noble; it is the cause of mankind!" George Washington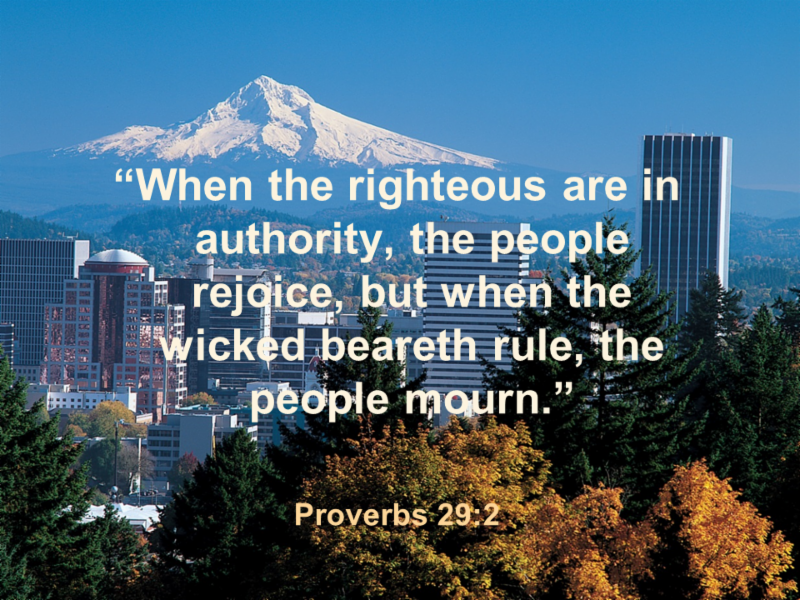 Your monthly financial support is needed as we work to Change Oregon.
To make a contribution from your cell phone
Text the word "VOTE" to 41444 to Give.
Restore America