On March 18th I wrote to over 4,000 Oregonians that "There are three major decisions Oregonians must make in 2018."
In 31 days, Oregon's Christians will have taken a large step in answering all three. That large step depends on what Oregon's pastors, church boards, denominational, and organization leaders, and you, decide to do in these next 31 days.
Note this first:
Note well: The average voter turnout in the last 3 mid term elections was 38.7%
Source: Oregon State Elections Division
The Voter Registration Deadline for the May 15th Oregon Primary is April 24th
Pastors and Church Leaders violate no law by calling for Non Partisan Voter Registration on April 8th, 15th, and 22nd. They violate no law by placing Voter Registration Cards on the seats and pews or in the bulletins for Sunday morning services, or having them available at a voter registration table or church office. They violate no law by encouraging their members from the pulpit, on the church web site, or in the Sunday Bulletin, to register, and to vote.
It is a national Scandal how many Bible believing Christians over the last several decades, fail to register, and then if registered, fail to vote. Oregon is no exception …just worse.
If we are to change the moral, fiscal, political and spiritual direction of Oregon we must re-engage our citizenship duty to govern through our votes by electing good and godly Christian World View candidates to public office. It is essential that Oregon's Christians REGISTER and VOTE in the May 15th Primary to select who goes forward to the November 6th General Election.
We have the votes to make a vast difference in who gets elected to the legislature, state, county, and local offices, including school boards; however, we are simply negligent in registering and turning them out to VOTE!
Changing government starts with prayer, personally and collectively as the Body of Christ, repentance, instruction, understanding how the self governance process our Founders gave us works, voter registration, and leadership, to Turnout our VOTERS. i.e. the determination to do the salt and light work of Christian citizens.
Evangelical and Born Again Christians in Oregon will decide the outcome of all three decisions, either by default, or by turning out in greater numbers to VOTE in both the May 15th Primary, and November 6th General Election.
Start today to encourage your pastor and Christian leaders to take the necessary steps to get their members to register to vote on the 3 consecutive Sundays mentioned above.
The 2018 Operation Oregon Campaign
"You are the salt of the earth; but if the salt loses it's savour, wherewith shall it be salted? It is thenceforth good for nothing, but to be cast out, and trodden under foot by men."

Matthew 5:13
The greek word for "trodden" means "to reject with disdain"
That is what the Oregon Legislature and state government has done for decades to the "salt" and "light" voice of Christians in Oregon!
"Watch ye, stand fast in the faith, quit you like men, be strong."
I Corinthians 16:13
"Our cause is noble; it is the cause of mankind!" George Washington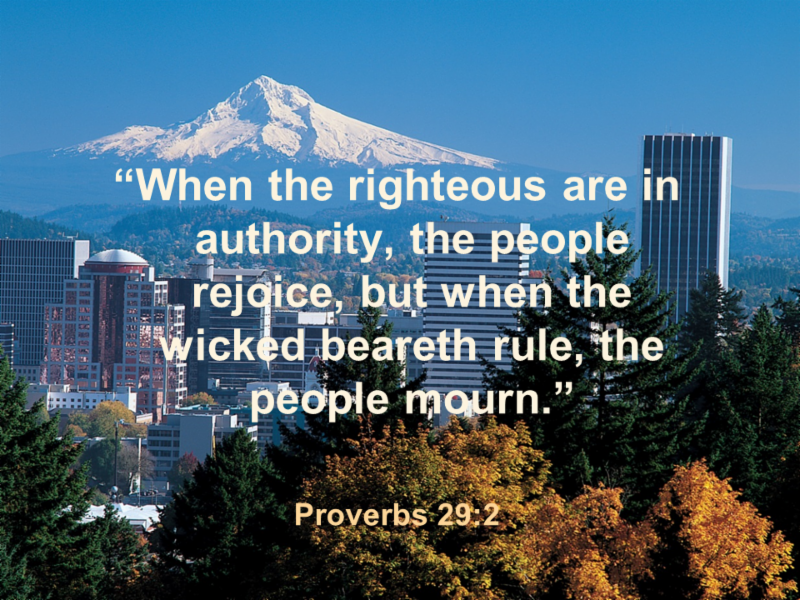 Your monthly financial support is needed as we work to Change Oregon.
To make a contribution from your cell phone
Text the word "VOTE" to 41444 to Give.
Restore America