"You are the salt of the earth; but if the salt loses it's savour, wherewith shall it be salted? It is thenceforth good for nothing, but to be cast out, and trodden under foot by men."

Matthew 5:13
The greek word for "trodden" means "to reject with disdain"
On March 18th I wrote to over 4,000 Oregonians that "There are three major decisions Oregonians must make in 2018." I addressed the moral and ethical issue of the state forcing Oregonians to pay for abortions conducted in Oregon with their tax dollars. On March 20th, I addressed the issue of electing a new governor. I listed the reasons Oregonians needed to elect a Christian World View governor in November, and stated again that…
"Evangelical and Born Again Christians in Oregon will decide the outcome of all three," which they will, either by default, or by turning out in greater numbers to VOTE in both the May 15th Primary, and November 6th General Election.
The third decision is to reject the Kate Brown led, "progressive" agenda of the democrat majority who control the state legislature. Electing several more Christian World View conservatives to both houses of the legislature is necessary to restore wisdom to the legislative agenda and thwart the left's continuing efforts to do away with the 'eternal rules of order and right' without which prosperity and the blessings of freedom are lost.
The 2018 Operation Oregon Campaign
"Our cause is noble; it is the cause of mankind!" George Washington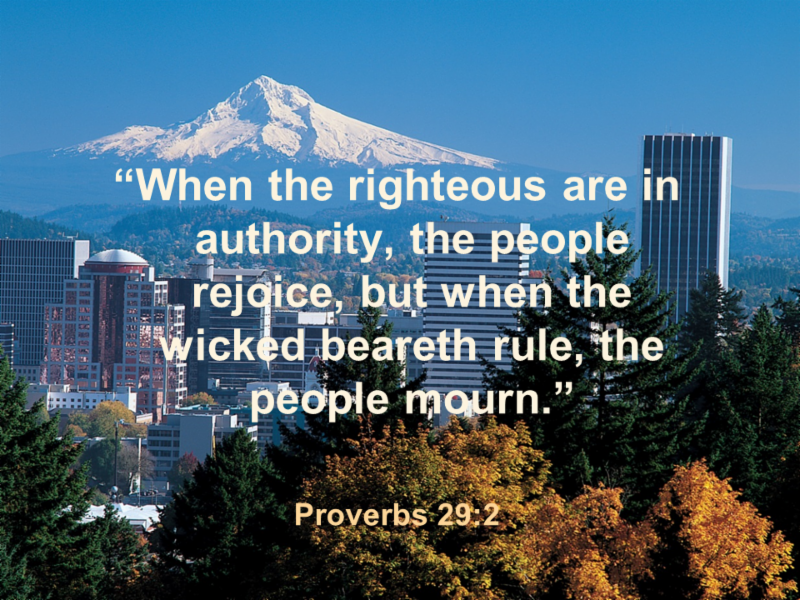 Your monthly financial support is needed as we work to Change Oregon.
To make a contribution from your cell phone
Text the word "VOTE" to 41444 to Give.
Restore America