"You are the salt of the earth; but if the salt loses it's savour, wherewith shall it be salted? It is thenceforth good for nothing, but to be cast out, and trodden under foot by men."

Matthew 5:13
Yesterday, I wrote to over 4,000 Oregonians that "There are three major decisions Oregonians must make in 2018," and that…
"Evangelical and Born Again Christians in Oregon will decide the outcome of all three."
The decision to end government ordered taxpayer funded abortion in Oregon, as set forth in Oregon Life United's petition drive to overturn Oregon House Bill 3391, "one of the most aggressive pro-abortion laws ever passed in the history of our country," requires 117,578 valid signatures of Oregon's registered voters.
The second decision is "Who is going to be their Governor?"
Oregon needs to elect a conservative Christian World View Governor for the following reasons:
Kate Brown a former pro-abortion lobbyist and current Oregon Governor – in the pocket of Planned Parenthood for years – and now lining their pockets with your tax dollars, gleefully signed and foisted on Oregon tax payers HB 3391 with the votes of Partisan Democrat legislators in both houses of the Oregon Legislature.
Of this bill, ABC News said…
"In some states such as New York, abortions are cost-free if they're deemed medically necessary. The Oregon bill is unique, however, in that patients would have access to the procedure for virtually any reason, at any time, including sex-selective and late-term abortions."
What ABC failed to say was that these abortions would be paid for by Oregon taxpayers whether they approved or not, with no mention that $500,000 was earmarked for illegal immigrants.
Her radical 'progressive' friends in the legislature from the greater Portland area, Lane, and Benton County, passed it as an "emergency" bill to give it the immediate force of law.
But that is not all the Kate Brown led left wing ideologues in the democrat controlled legislature foisted on Oregonians. We will tell you more about the rest in the weeks ahead.
To see our Campaign to Restore Oregon, click and review the 2018 Operation Oregon slide presentation to see how acting together 'AS ONE MAN' we can change Oregon.
"Our cause is noble; it is the cause of mankind!" George Washington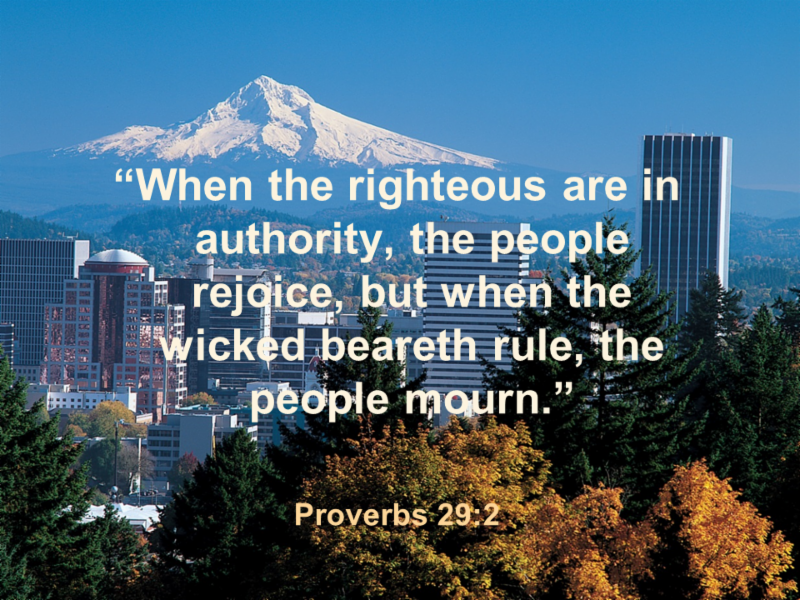 Your financial support is needed to Change Oregon.
To make a contribution from your cell phone
Text the word "VOTE" to 41444 to Give.
Restore America